LAUNCH YOUR TRAINING QUICKLY
Businesses, institutions and subject-matter experts all over the world rely on Udutu's Learning Management System (LMS) to quickly launch, manage and scale training programs. By providing a secure, centralized environment that empowers global teams to collaborate, author and track training, Udutu's web-based LMS saves time, reduces costs and makes training more effective.
GET STARTED WITH THE UDUTU LMS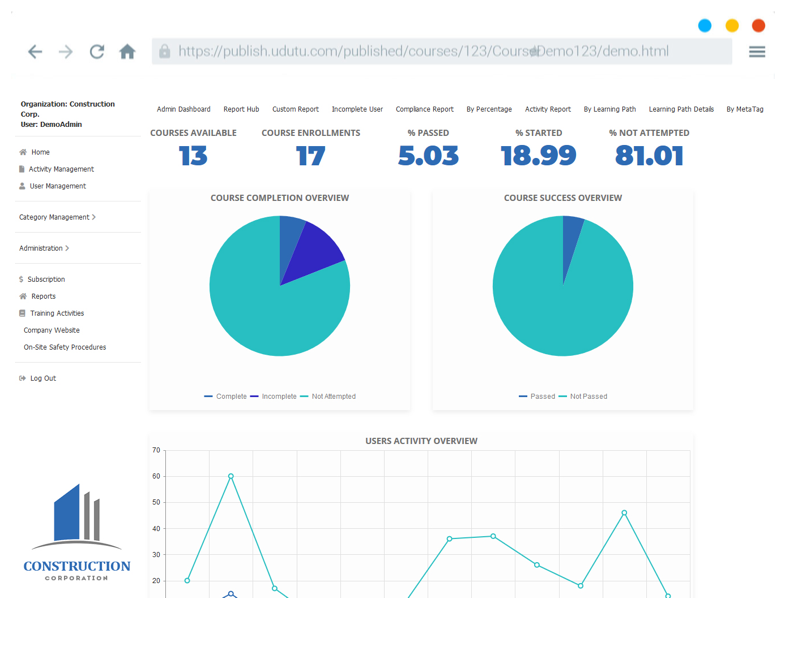 Try Udutu LMS for Free, Only Pay for Active Users
Udutu LMS empowers training departments, safety and compliance managers, HR teams and others to collaborate, author, distribute, and track training. Udutu LMS has allowed single organizations to scale and train 25,000 learners.
Begin training instantly with Udutu's one-day deployment and only pay for active users. Try our scalable, web-based LMS for free to see how easy it is to launch courses while maintaining total control over access, reporting and compliance.
Working with all of you at Udutu was an absolute pleasure. From the initial kickoff meeting, all the way to the final deliverable, your team came through every time. The kick-off meeting allowed all of us to set goals and expectations, which were fully met by the end product. You provided us with timelines for the completion of each phase, tracked changes and revisions, and quality controlled the product along with us. Your team truly partnered with us, making the creation of the eCourse a fruitful and successful journey. Many thanks to all of you at Udutu.
Working with Jennifer on this project was a dream. I always felt like I was in good hands. She was fast to respond and met the deadlines we identified. She was able to build upon existing course content and implement new content seamlessly. I was impressed by Jennifer's ability to learn the material and present it in her own words. This gave us the ability to build on existing ideas and really polish it all up. I know who I will be calling when I have to develop my next course!
(Re: Jennifer and Maria) You both were fantastic to work with on the project. I enjoyed the team approach and the experience you both brought added great perspectives.
We appreciated Jennifer's stylistic designs and her ability to make suggestions from a learner's perspective – in my opinion this sets you apart from other course creators that may focus only on style. You both were easy to work with and very personable; very much in alignment with what we look for in a partner.
The process was seamless and well communicated. I enjoyed the "command center" and you both were very responsive – from our initial connection until the very end.
We also appreciate the efficiency in the narration portion – helping to select the voice and the creation of the spoken words. Other vendors expressed a challenge with getting this done, but you were very agile here.
I think what also made this course land well with our colleagues was how dynamic the course was – with the suggestion of audio, music transitions, animations, interactions, and flow control this course really stood out compared to others.
Thank you so much for working with us on this and creating a course that we are proud of to have live on as we onboard new employees and continue to cultivate the best in class experience we dedicate ourselves to offer.
WHY GLOBAL TEAMS USE UDUTU LMS?
POWERED SOPHISTICATED TRAINING PROGRAMS THAT ACHIEVE RESULTS
Udutu LMS is user-friendly—no programming required.

Begin training instantly with one-day deployment.

Budget-friendly and infinitely scalable. Only pay for active users.

No minimum number of learners-train as few or many people as you require.

Upload courses from marketplaces or tools like Captivate and Storyline.

Create complete training courses from PowerPoint—easily add in assessments and grading.

Plans come packaged with the PPT-to-SCORM converter, FREE ($120 value).

Cloud-based LMS works on any device, any OS, at any time.

API integration with your favorite tools and HRIS systems.

Mobile friendly interface.

Take advantage of resources and support options to ensure your training is the best it can be.

Paid subscribers receive premium phone support and strategy consultation.

Track a variety of activities including videos, documents and even track face-to-face training for true blended learning.

The latest facial recognition software with course proctoring capabilities (optional; with additional cost).
GET STARTED WITH THE UDUTU LMS